One by one they're placed
carefully upon the shelf.
Figurines of desire
that grew into hate
Demented little archive-
A pure collection
of hand-carved, painted statues
Witnesses who never die.

All but one remains
The next unrequited love
faithfully waits for a time
to claim this marked space.
As the last piece is crafted,
many others will pursue-
A thrill gotten from the race,
every night and day
for the final rendezvous.

More than these will fall
Shattered remnants spread around.
Pieces of prized possessions
are these little dolls.
Acquired fetish objects
but these parts should not be owned.
Empty home of ghosts
a secret lair of madness
where figurines once were bone.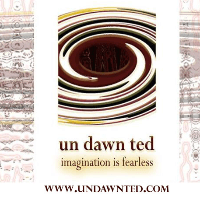 undawnted
A writer at heart, Undawnted's own creative spark, DL Mullan, began writing short stories and poetry before adolescence. Ms. Mullan decided to showcase her literary talents by publishing collections of her poems. She also writes novels, designs...